BHS Cheerleaders
Through the years, supporting the Red and Black,
Whether Mites or Bears!
---

The 1956-1957 Cheerleaders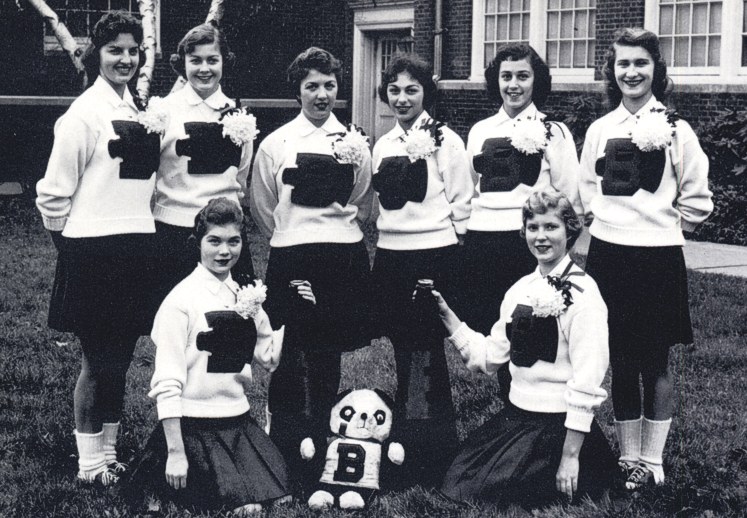 ---

The 1958-1959 Cheerleaders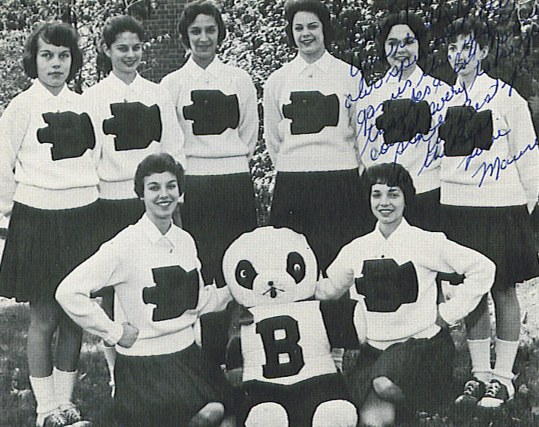 Kneeling: Co-Captain, Linda Maresca, Captian, Barbara Arcieri.
Standing: Kathy Zegarra, Janet Glass, Janet Wallace, Karen Flach, Maureen Griffith, Emily Cesareo.

---

The 1963-1964 Cheerleaders


Joan Beya, Julie Heonis, Michelle Valentino, Laraine Daborn, Rose Goldstein,
Diane Bartlet, Nancy Schmidt, Cris Standler, Maureen Boos

---

The 1964-1965 Cheerleaders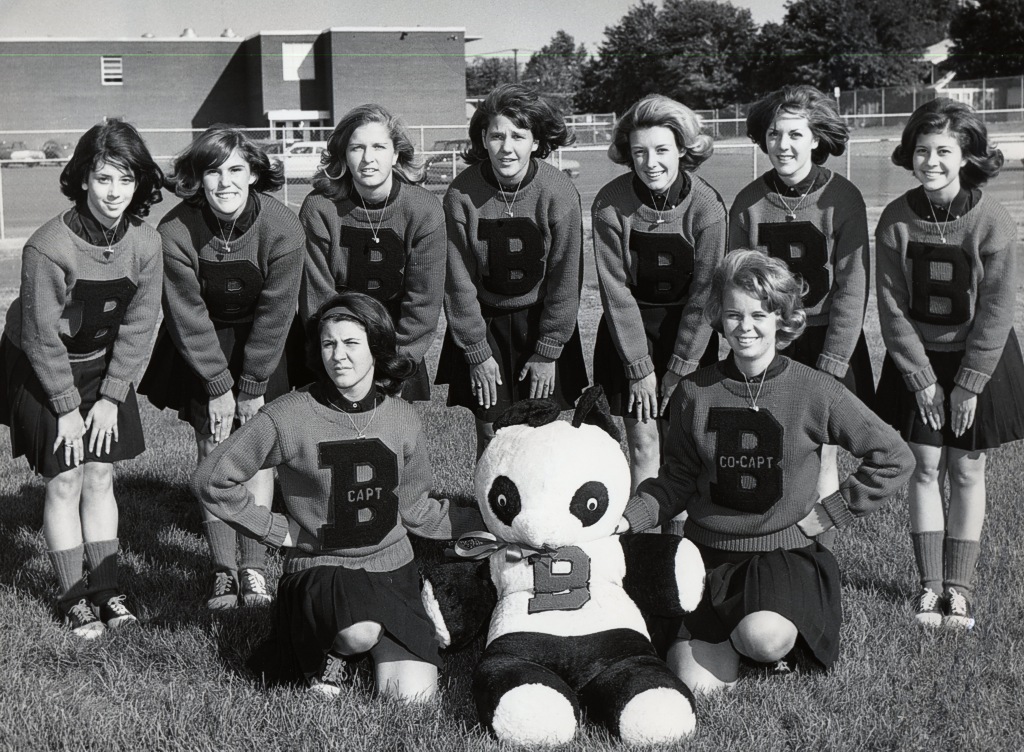 L to R: Diane Rosen, Sherrie Fischer, Janet Welch, Pam Cameron,
Cathy Kelly, Linda Wottke, Michele Valentino
Kneeling: Rose Goldstein, Carleen Becker
photo compliments of Carleen Becker.

---

The 1966-1967 Cheerleaders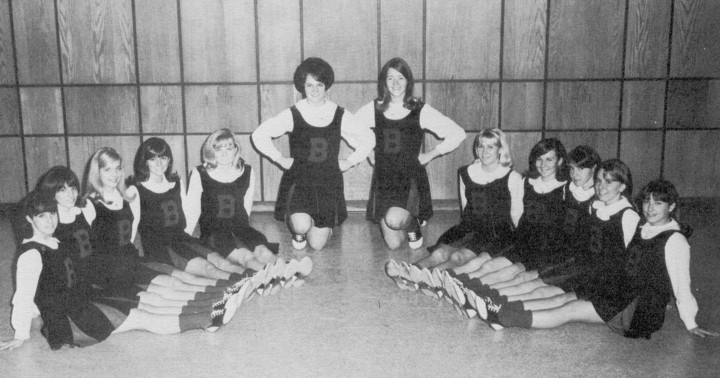 ---

The 1974-1975 Cheerleaders


Top Row (back row) - Karen M., Kathy C., Karen S., Jane C., Stacey D.
Second Row- AnnMarie N., Janet R., Gina F., Maureen W., AnnMarie Z.
Third Row (floor) Judy B., Laura B., Patti D., Valerie H.

---

The 1977-1978 Cheerleaders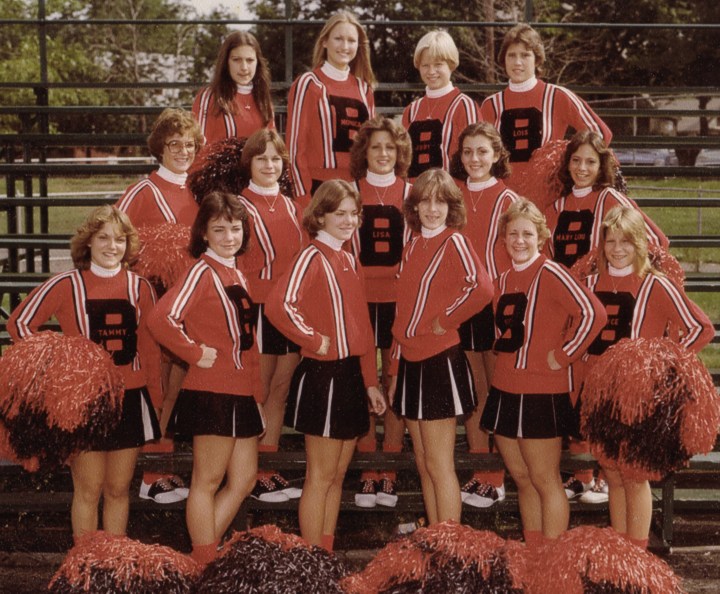 Top Row left to Right: Kathy New, Monica Salvesen, Judy Lombardi, Lois Thompson
Middle: Adrian Coppola, Marianne Boes, Lisa Maugeri, Sheryl Dubitsky, Mary Lou Gallione
Bottom:Tammy Wells, Anne O'Boyle, Lynn Sullivan, Diane DeWitt, Sue Wagner, JoyceSolomon

---

The 1978-1979 Cheerleaders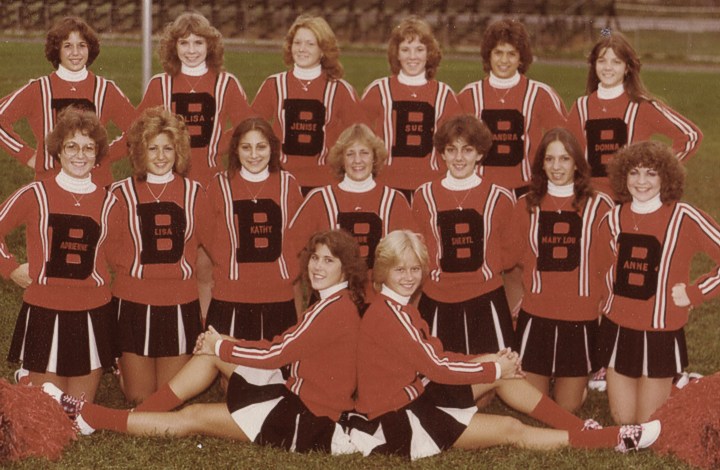 Top Row: Leeanne Polizanno,Lisa Colon, Jenise Fetcho, Sue McHugh, Sandy Solar, Donna Vignola,
Middle Row: Adrianne Coppola, Lisa Maugeri, Kathy New, Sue Wagner, Sheryl Dubitsky,
Mary Lou Gallione, and Anne O'Boyle
Front Row: Lois Thompson and Judy Lombardi

---

The 1985-1986 Cheerleaders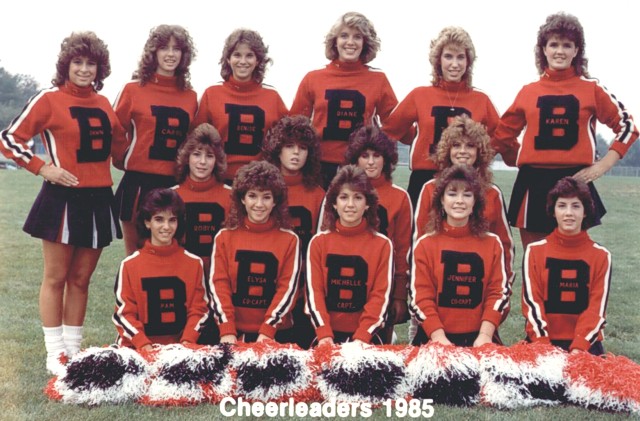 Sitting, L to R:Pam Maino, Elysa Metzger, Michelle Metzger, Jennifer Tulane , Maria Gallione
Kneeling: Robin Zingone, Jaclyn Metger, Lorie Morris , Jennifer Regina
Standing: Dawn Chacanias, Carol Camp, Denise Deluca, Diane Nilsen,
Tracey Musarra, Karen McCarthy

---

. . .
Please visit our sponsors, fellow Bergenfield alumni, who keep this page going.

-- Site Map --

Address Book | Reflections | links | Photo Gallery | Doo Wop Bands | homepage | Business and Personal Web Hosting
Bergenfield Education Foundation | Band Room | Friends of Music | Class of 1967 | Calendar of Events| BHS logowear
add your name to address book | change your address or e-mail | view alumni addresses
find alumni by state | view bulletin board | sign the bulletin board | search by state .
read news and stories about bergenfield | view memorials | add a memorial |
Faculty, Staff & Friends Address Book | Faculty, Staff & Friends Registration
. . .
| BHS honored Veterans || Alumni Veterans List || Veterans Registration |
. . .
| St. John's K-8 school | Bill Eaton Memorial Golf | Bergenfield Museum | BHS Drama Club |
Bergenfield Education Foundation | | BHS Chearleaders | BHS Band Room | Alumni Association
. . .
Photo II Galleries
1950's photos | | 1960's photos | | 1970's photos | | 1980's photos | | 1990's photos
Bergenfield Gallery Today | | Bergenfield Sports | | Bergenfield P.A.L | | Bergenfield, The Early Years | | Bergenfield Today
Elementary school photos
Doo Wop Bandss || 1960 Bergenfield High School Dedication

. . .
... Space and funding for the BHS Web site has been donated by
JED products, promotional products, restaurant supply,
Custom Embroidery, Screen printing, T-shirts, Jackets, caps, sports uniforms, promotional supplies.......

links