1969 Bergenfield Wrestling Team
Photo submitted by
Bill Savage, '66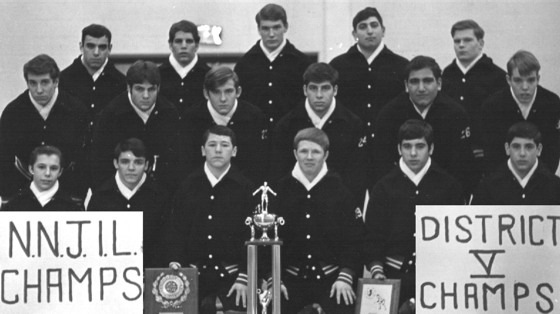 Click here for a larger view
Back row: Bello, Kochakji, Anderson, Orfanditis, Shaw
Middle row: Hill, Hogh, Gillies, Certa, Stavrou, Bickerton
Front row: Tanzosh, Caffery, Vonderlinden, Ware, DeRisi, Maugeri
1966 Roy W. Brown Football Team
Graduating Class of 1969
Photo submitted by
Don Campeau, 69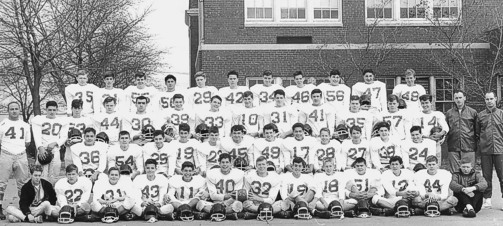 click here for a larger view
Top Row Standing:First player # 35 Walter Christie, Raymond Henry, Michael Lidestri, Dennis Annecchino, Thomas Shaw, Denny Teason, Robert Hawthorne, Russ Verb, Nicholas Orfranidis, Ralph Russo, John Gilman- Last player top row #48
First Row Standing:First player #20 – Frank Hamilton, John Eichler, Robert Hughes, Neal Bello, Don Campeau, William Lilley, Ed McDonnell, Thomas Goodwin, #41 John Mayancsik, George Smith, Don Campbell, Robert Foglio last player # 14.
Second Row Sitting:First player #36- Peter Eftychiou, William Romas, missing, Nicholas Mattiace, Andrew Hogh, Ray Lyons, John Gueli, Joseph Noto, Paul Hartman, Gary Amundson, George Lapp, Gary Chartoff..last player in this row #24
First Row Sitting:First person sitting no uniform- Missing, #22 Dan Gillies, Larry Jost, Robert Chipok, Steve Certa, Dan Kochakji, Chuck Burke???, missing, David Arp, Joel Applegate, Steven Czarnota, Tom Causey, sitting no uniform next to #44 is Gary Strauss.
Coach: #41 Mr. Pirgatore. Mr. Callison and Mr. Thourot.
1966 Roy W. Brown Track Team
Graduating Class of 1969
Photo submitted by
Don Campeau, 69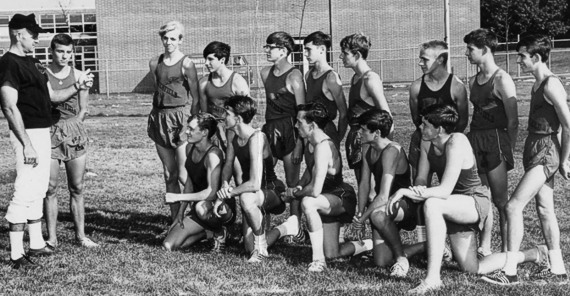 click here for larger view
From left to right - Standing.....Coach Kenneth Gulnick. Next to him - Rick Dolanski
Standing ; (blonde) Andy Pruzinsky, Ken Belits, Matthew Megaw, ? , ?,
Rick Bassett, Gary Fowler, ?.
Kneeling: left to Right: Walter Christie, ?, Paul Thistle, Greg Knight, John Downs